Nano ToothBrush ( pack 2/3/4)
Nano tooth brush
It is nice and feels different while using it but the bristles spread out fast.
good
I m satisfy,thanks for same product sending
NANO TOOTHBRUSH FAMILY PACKAGE
PACK OF 2 = 499rs
PACK OF 3 = 599rs
PACK OF 4 = 679rs
Brighten Your Confidence.
The NanoBrush PRO will leave your teeth looking white, your breath smelling fresh and your face glowing with new-found confidence. With carefully selected, recyclable BPA-free bristles and an entirely lead-free handle, you can be confident that your bright and beautiful smile comes at zero cost to your health or that of the environment. Not only that, but our minimalist design is chic, stylish and extremely durable, meaning that your dazzling pearly whites are here to stay.
Have you used a toothbrush with over 10,000 bristles?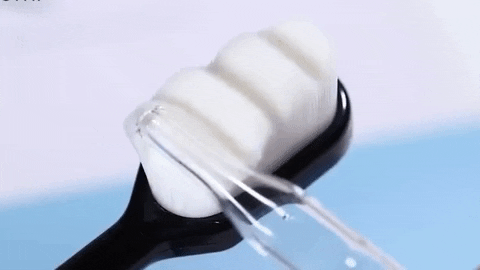 Nano Toothbrush is unlike any ordinary toothbrush. With each micro-fiber bamboo bristle, it can cover more surface area of your teeth, and penetrate each enamel crevice to remove food residue, bacteria plaque, and stains!
So soft making it highly effective for your gums and tongue! Say goodbye to bad breath and bleeding gums!
With over 10,000 Ultra Fine Bristles, you can enjoy clean and healthy teeth! Nano™ Toothbrush will reach every crevice to eliminate that pesky plaque while leaving no damage to your teeth or gums!
SOFT AS A FEATHER! Nano Toothbrush is perfect for those with sensitive teeth, bleeding gums, or tooth aches. Useful for children, elderly or people with braces! 
Nano Toothbrush is a game changer when it comes to battling food residue and promoting good teeth and gum health
Features:
Healthy White Teeth - Million ultra-fine bristles for effective deep cleaning of teeth
Healthy Gums - Micro soft bristles, effective care for gum health and tooth enamels
Ultra Soft & Fine Bristles - Over 10,000 Ultra Fine & Soft Bristles 
available color : pink ,white
Safe Material - Bristles are crafted from ultra soft anti-bacteria nylon and handle is crafted from plastic which isBPA free